⭐⭐⭐⭐⭐
Best Investment Ever!


"I was hesitant before I bought it, but my cats love it. It has different settings and keeps them engaged. Fun even to watch. Moves back and forth to keep the cats' attention, and they even try to hunt it at night!"


-Fabian ✅ Verified Buyer
Entertaining Play Activity For Curious Cats!
Cats are curious creatures that have been domesticated for a long time but still upkeep their popular instincts. This means that stalking, hunting, and jumping around are all part of the behaviors of a healthy cat, but in closed surroundings that have limited space to do them. The lack of physical activity can translate into further health problems like deteriorating behavior, obesity, and diabetes.
Balata™ Smart Cats Toy Electric Ball is the handiest, automatic, rechargeable toy that can help keep indoor felines entertained while allowing them to upkeep their instincts. A fun, interactive toy that features a smart play-rest balance, made from pet-safe PP plastic with a built-in motion sensor that is touch activated and avoids hurdles. Give felines plenty of fun activities!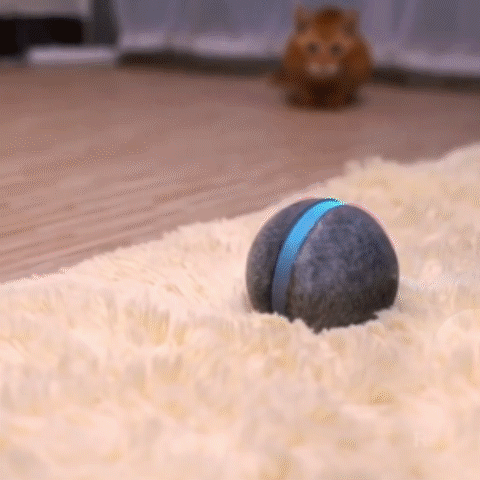 Here is how Balata™ will change your feline's life
✅ ENTERTAINING PLAYTIME
Give your cats or kittens plenty of entertaining and active playtime with the Balata™ cat toy. An automatic, rotating, rechargeable ball that can help keep indoor felines active and playful, satisfying their hunting instincts.
✅ CONTENT FELINES
Cats engage in stimulating interactive play with the ball which also keeps them active. With the help of the Balata™ toy, cats can get some exercise while being distracted from undesirable behavior and boredom.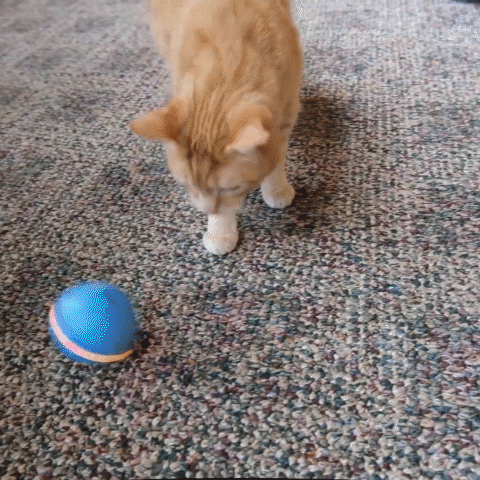 ✅ INTERACTIVE TOY
The Balata™ Smart Cats Toy Electric Ball is a motion-activated toy that will automatically move, shake or bounce, attracting cats to chase and capture it. It features two adjustable play modes to satisfy the taste of every tabby.
✅ PURRFECT PLAY-REST BALANCE
To support good play-rest balance, the Balata™ offers 10 minutes of active play and goes to rest mode for 30 minutes to keep cats well rested. After being fully charged, a play session can hold up to 4 hours.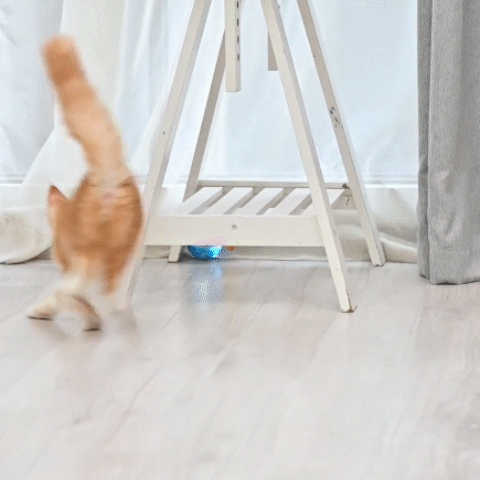 ✅ SMART HURDLE AVOIDANCE
Thanks to its built-in intelligent motion sensor, Balata™ can reverse itself and change moving direction when hitting an obstacle or tight spots. This way, you should never worry about fetching a toy from under the couch.
✅ PET-SAFE DESIGN
Balata™ is created with pet-safe PP plastic, suitable for play on hardwood floors and laminates, withstanding paw attacks. The 1.7" size is suitable for both: adult cats and kittens, building their curiosity without scaring them off.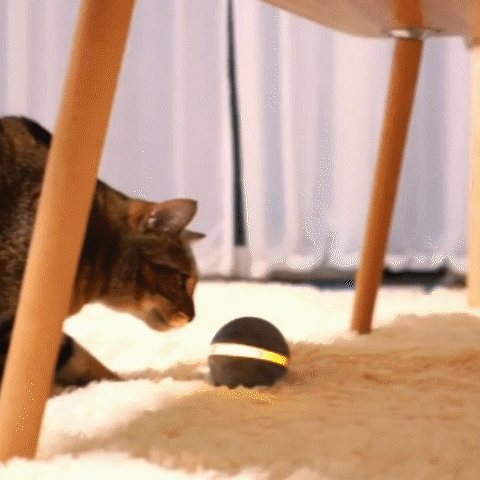 All of us have felt surprised and perplexed the moment we notice our cat pouncing on our feet, trying to hunt them. We want the best for the mental and physical health of our tabby but it is not enough to buy them a toy that they will play with for a day and forget it exists, because we know cats need things to keep them curious. Studies have found that the lack of activity in the life of indoor felines can cause health problems such as obesity, diabetes, and urinary tract infections.
The Balata™ Smart Cats Toy Electric Ball is a convenient, automatic, entertaining, rechargeable toy that helps entertain felines while enabling them to maintain their instincts and keep them active. Constructed of pet-safe PP plastic, it comes with a motion sensor that is touch activated and designed to avoid obstacles, keeping the toy from getting stuck while also featuring a clever play-rest balance that allows indoor cats just the right amount of physical activity. Keep cats active and curious!
100% MONEY-BACK GUARANTEE
At Petverse, we believe in the quality of our products therefore we offer 30 Day Money-Back Guarantee with no questions asked! When you purchase from us, there is ZERO Risk for you!

Congratulations!

You've found a hidden discount code! Use code "PETVERSE" at checkout to claim an additional 10% OFF your ENTIRE order!

Please feel free to contact us at [email protected] or 1(888)497-5782.

We'll be more than happy to answer your questions!