⭐⭐⭐⭐⭐
Best Investment Ever!
"My cats are obsessed with this water fountain. It's super easy to turn on and regulate thanks to the flashing LED lights and water level indicator, and I can easily fill up the water fountain and not have to worry about them drinking dirty tap water. I can finally rest assured that my cats are safe and healthy! 😊"
- Lily. ✅ Verified Buyer
ELEVATE YOUR PET'S DRINKING EXPERIENCE!
Pet owners know the importance of giving their pets only the best and healthiest ingredients. Some pets may experience discomfort due to drinking chlorinated and dirty water and require filtrated water. This type of water takes more time to prepare, and your pet can flip over their water bowl with ease, leaving you with a mess to clean up.
Catzy™ Cat Drinking Fountain is a triple filtration system water dispenser that eliminates unwanted particles from your pet's drinking water, making the water healthy and safe to consume. It features three different flow modes to fit your cat's needs, as well as a LED regulator that notifies you of the water levels. Keep your furry pals happy and healthy at all times!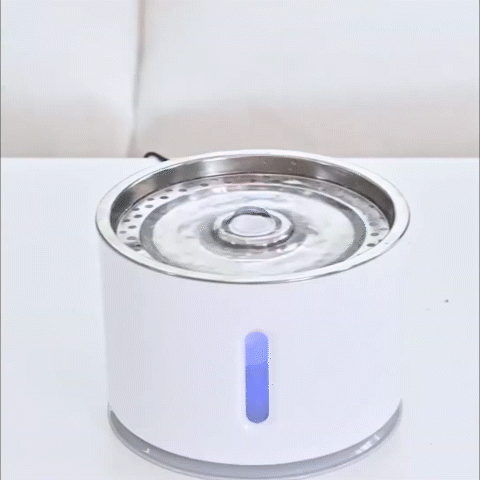 Here is how Catzy™ will change your life as a pet owner
✅ PET HYDRATION WITH A TWIST
Elevate your pet's drinking experience with the Catzy™ Cat Drinking Fountain, designed to keep your cat hydrated and entertained. Equipped with three different flow modes that keep water fresh: flower waterfall, flower bubble, and gentle fountain.
✅ HEALTHIER DRINKING WATER
Catzy™ features a triple filtration system that eliminates any unwanted particles and makes drinking water safer to consume. The unique replaceable design of the charcoal filter can effectively filtrate the dirt, odor, and chlorine for extra clean drinking water.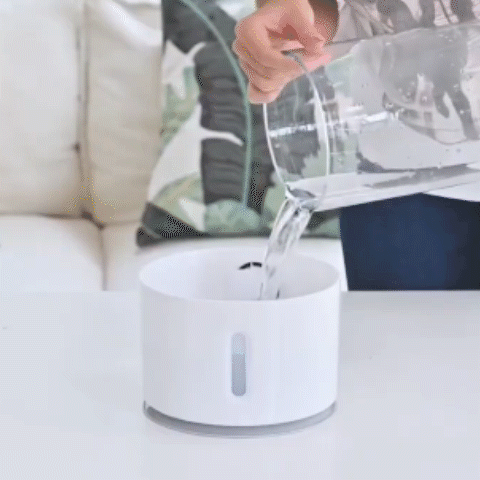 ✅ ADVANCED USER-FRIENDLY DESIGN
Catzy™ features design elements that make it easy for any pet owner to oversee the state of their cat's drinking habits. The LED water level window indicates know how much water is left in the fountain, allowing you to stay informed and your pet to stay hydrated.
✅ MADE FROM SAFE MATERIALS
Catzy™ Cat Drinking Fountain is made of finely polished BPA-free plastic that ensures scratch-free longevity, making it eco-friendly and non-toxic. In addition, the lid is made of stainless steel, making it limescale-proof and odorless.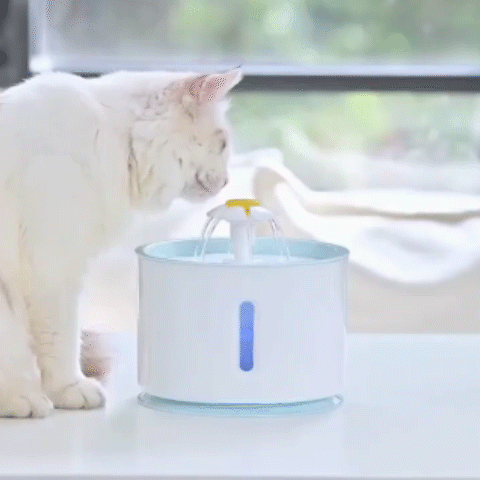 ✅ CLEAN DRINKING WATER FOR DAYS
Catzy™ can hold 2.4L of water so you don't need to refill water frequently, and it can meet the drinking needs of cats, dogs, birds, and other pets of various sizes. No need to worry about pets not getting enough fresh drinks when you go to work.
✅ ULTRA-QUIET TECHNOLOGY
This latest designed blue pump DR-DC160 is deployed with a customized suction cup to diminish the noise to a minimum. It ensures your pets will not stay distracted by any noise and go about their day as usual, as will the owners.
We have all been in those frustrating situations where our pets keep knocking down their water bowls, leaving us with a mess and the constant task to refill their water. In addition, their water can easily get contaminated with germs, dirt, and odor. According to studies, drinking heavily chlorinated water can potentially cause digestive issues in dogs and cats if not regulated.
Luckily, Catzy™ Cat Drinking Fountain is equipped with a triple filtration system that eliminates any unwanted particles and delivers clean and tasty water for your pets. It features three different flow modes to keep your cat entertained, as well as a LED water level regulator for pet owners. Always give your pets the best drinking water possible!
100% MONEY-BACK GUARANTEE
At Petverse, we believe in the quality of our products therefore we offer a 30 Day Money-Back Guarantee with no questions asked! When you purchase from us, there is ZERO Risk for you!
Congratulations!
You've found a hidden discount code! Use code "PANEMA" at checkout to claim an additional 10% OFF your ENTIRE order!
Please feel free to contact us at support@yourpetverse.com or 1(888)497-5782.
We'll be more than happy to answer your questions!