Good Bye To Frizzy, Damaged, Rough And Unhealthy Hair ❤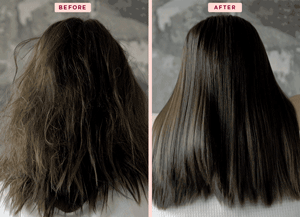 Get rid of your damaged hair by applying this pure keratin hair mask! This revolutionary treatment revitalizes your hair in minutes for amazing results. Don't waste your time at the salon or trying out new beauty tricks. This mask will detangle and shine your hair from the first application!
Using our hair mask will instantly make your hair bouncy and silky! 🥰Effectively repairs brittle, damaged hair and restores elasticity.💖
Start by washing your hair with a gentle shampoo and towel-dry it.
Apply a generous amount of the keratin hair mask to your hair, focusing on the ends and damaged areas.
Comb through your hair to distribute the mask evenly.
Leave the mask on for the recommended time (usually around 5-10 minutes).
Rinse the mask out thoroughly with warm water.
Towel-dry your hair again and style as desired.
BENEFITS:
Say goodbye to damage and lifeless, dry hair!
Ultra-fast advanced molecular processing
Perfect for all hair types
Highly concentrated, apply a small amount
Promotes hair growth and natural radiance
Tested and recommended by dermatologists
️